Our same premium flower, available in both single 1 gram and 5-packs of half gram pre-rolls. Our 1 gram pre-rolls are packed with enough premium Loudpack flower for a heavy solo sesh, or sharing with a friend. Our 5-pack comes with convenient .5G joints great for quick on-the-go sessions. 2.5G of our flower, pre-rolled, pocket-friendly and ready to go!
Powered by the sun, frosty like indoor. Our Light- Dep systems give you the best of both worlds. Grown and hand-selected by Loudpack cannabis experts. Resealable bags for optimal freshness and a window on the back.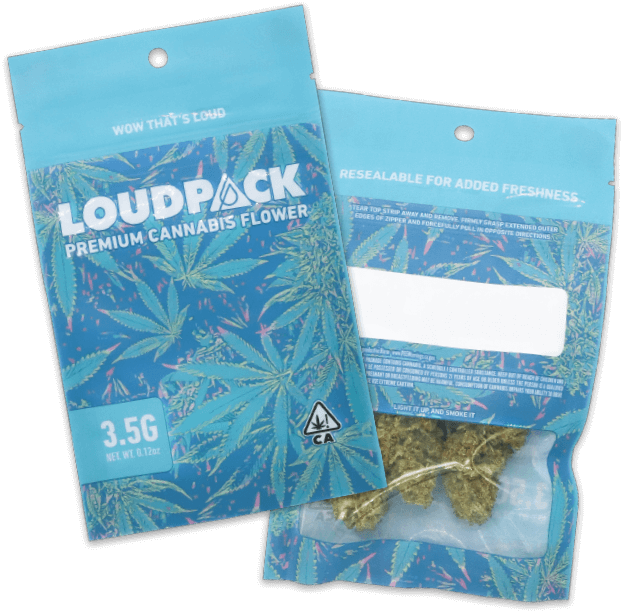 Live Resin Sugar's ratio of THCA diamonds to terpenes is perfect for dabbers who want every last bit of terps in their bangers, not on their dab tools. Diamonds in the Sugar are held together by a gooey layer of terpenes that break up cleanly without leaving terps behind, letting you load each of your dabs up with full potency and flavor.
After a fresh pour of Live Resin, our oven team hand-whips our soon-to- be Badder for hours on end until it reaches a smooth and soft texture, similar to the consistency of creamy peanut butter. Our delicious Badder is easily manipulated for each dabber's preferred size.
True to its name, Crumble contains less moisture and quite literally falls apart, or crumbles, when handled. This makes it one of the most versatile extracts out there, with uses ranging from dabbing to sprinkling on a joint, bowl, or blunt. Crumble packs the punch of other extract consistencies without the messy clean up.
We make Loudpack oil in our state-of-the-art facility in the heart of California. Each cart is hand-filled with only pure cannabis oil and terpenes. We use proprietary blends of terpenes to create the best possible tastes, aromas, and effects. Our hardware matches the quality of our oil to ensure you have a great smoking experience – consistent pulls, consistent heat, no burning.