Loudpack cultivates, manufactures and distributes some of the most sought after products in the cannabis industry. From the flowers we grow, to the facility in which they are grown, it's about achieving the perfect product. It's about providing the perfect conditions for our people and delivering cannabis that sets the bar for the industry. This is what we do and we've been doing it for decades. Our process is a reflection of our lifelong passion. Our facility was built from the ground up to create, cultivate, package and distribute some of the highest-quality cannabis products in the world. This attention to detail is carried across all of our brands.
Cannabis for the people who want to get high and have fun. All Dimebag flower is grown in sunny California using organic nutrients and soil. Incredible value brought to you at an affordable price. Spark it, smoke it, pass it and let's get high!
Kingpen was founded in 2014 and started out as one of California's first high potency oil cartridges. Most recently, Kingpen expanded into 2 new product categories. Kingpen Royale is a 100% live resin 0% distillate vape cartridge and Kingrolls are our crazy high potency kief coated pre-rolls that are infused with Kingpen's award-winning cannabis oil. Kingpen products are made at our state-of-the-art facility to ensure complete quality control. From start to finish, Kingpen's quality standards have never changed. Welcome to our kingdom.
Kingroll takes pride in crafting premium joints made with single-source whole nug flower infused with Kingpen cannabis oil and coated in golden kief. Our standout in-house flower pairings provide an authentic "true to strain" experience using award-winning genetics. With Kingroll, every preroll is a work of art, delivering an exceptional cannabis experience fit for royalty. Welcome to our Kingdom.
Our delicious Fruit Chews are made with ingredients that are gluten-free, dairy-free and vegan friendly. Not only do our edibles provide consistency you can rely on, but they taste incredible too. Available in 100mg THC, 1:1 CBD and 250mg Delta-8!.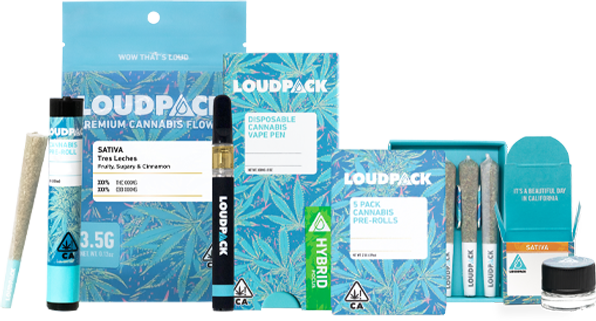 Loudpack is devoted to creating the highest-quality cannabis California has to offer. We believe quality is key and that is reflected in our product portfolio. Our state-of-the-art manufacturing lab and growing facility is where it all comes to life – from seed to sale, from farm to feeling good.