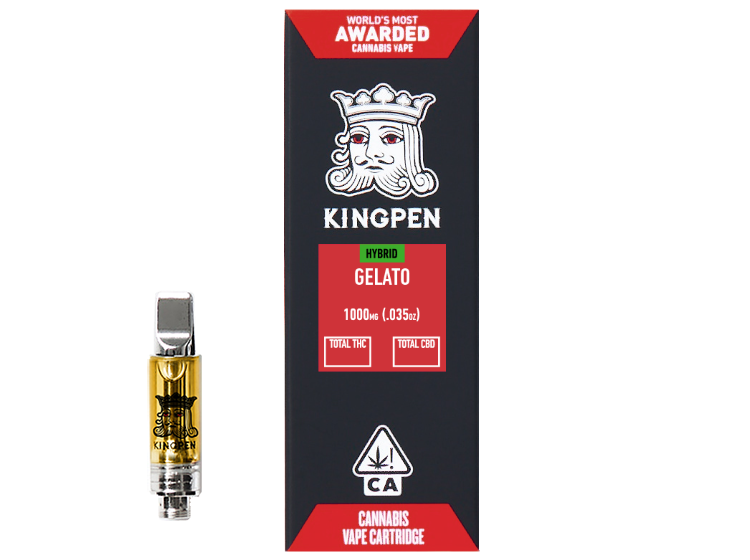 In the ever-changing, ever-evolving world of cannabis, it's damn good to know that some things remain as is. Like the most awarded Vape Pen Cartridge in the history of the High Times Cannabis Cup… Kingpen.
Sativas
SUPER LEMON HAZE
Tart, sweet, with a hint of Lemonhead candy.
A sativa strain bred from Lemon Skunk and Super Silver Haze. Delivering uplifting cerebral effects that are both lively and energetic. Not recommended for naturally "wound-up" people.
JACK HERER
Pine, earthy and woodsy.
A sativa strain named after the much renowned marijuana activist, Jack Herer. Derived from Northern Lights #5 and Shiva Skunk. Delivers a relaxing whole body experience and an energetic head high.
CALI-O
Citrus flavors.
Cali-O, or California Orange, is an old school strain dating back to the early 1980s. Its true origin is unknown but the agreed upon storyline is that this sativa delivers an upbeat, clear-headed high.
INDICAS
KING LOUIS OG
Pine, earthy and woodsy.
An indica strain bred from the genetic backbone of West Coast cannabis, OG Kush. This is pure relaxation at its finest and recommended as a perfect nightcap for the end of a long day.
SKYWALKER OG
Spicy herb and earthy aromas.
This oh-so potent indica strain is a cross of Skywalker and the hugely-popular OG Kush. Its primary focus is out-of-this-world relaxation – pure, body-tingling, numbness-inducing relaxation.
HYBRIDS
JILLYBEAN
Sweet, citrusy and tropical.
A hybrid strain that's a top choice for creative minds looking for that perfect euphoric high during the daytime hours. It's bred from crossing Space Queen and Orange Velvet – an upbeat, happy hybrid.
GELATO
Sweet sherbet with fruity blueberry and orange flavors.
This multiple Cannabis Cup awarded hybrid is poised and ready to unlock creativity and deliver serious relaxation. It's a cross of Sunset Sherbet and Thin Mint Girl Scout Cookies. Expert Note: Not meant for novices.
ROMULAN GRAPEFRUIT
Citrusy, spicy and herbal.
Appropriately, this hybrid is a cross of Romulan and Grapefruit. Its effects are both relaxing and euphoric and it grows like a grapefruit in size. Definitely an excellent strain for true "couch-y" relaxation.
THREE KINGS
Sour tanginess.
A hybrid bred from none other than the all-mighty 3 Kings of marijuana strains – Headband, Sour Diesel and good ole OG Kush. Get ready for some serious Kingpen level relaxation.
TRAINWRECK
Citrus aromas.
When Mexican and Thai sativas are bred with Afghani indicas, the results are nothing less than being hit by a freight train. Trainwreck is a hybrid well-known for relaxation and euphoria.
The Oil
Kingpen oil is made in our own state-of-the-art manufacturing lab. It is distilled 5 times producing a high quality product that passes strict qualitative and quantitative tests. We then add proprietary blends of terpenes to achieve the best flavor possible. No PG, VG, PEG or other additives.
The Pen
Our hardware maintains some of the lowest failure rates in the industry and our cartridges are engineered for smooth and consistent airflow. In addition, our pens have multiple voltage levels so you can control your heat settings (low, medium and hot) and feature a pre-heat mode that allows you to heat the oil before you hit.
2017
1st Place
|
Best Vape Pen
|
Gelato
High Times SoCal Medical Cannabis Cup
1st Place
|
Best Vape Pen Cartridges
|
Gelato
High Times Midwest Cannabis Cup
2nd Place
|
Best Vape Pen Cartridges
|
Gelato
High Times NorCal Cannabis Cup
1st Place
|
Best Product
|
Double Barrel Vape
High Times SoCal Harvest Cup
2016
1st Place
|
Best Vape Pen Cartridges
|
Cali-O
High Times SoCal Cannabis Cup
High Times SoCal Medical Cannabis Cup
2nd Place
|
Best Vape Pen Cartridges
|
Cali-O
High Times SoCal Medical Cannabis Cup
2015
High Times SoCal Medical Cannabis Cup
High Times SoCal Medical Cannabis Cup
Powered By Loudpack
Kingpen is a product of Loudpack Farms and an OG member of the Loudpack family. A company devoted to creating, cultivating and distributing the highest-quality cannabis on Earth. Our purpose-built greenhouse facility and pharmaceutical-grade manufacturing lab in Greenfield, CA is where it all begins – with a little help from our friends at DNA Genetics and Crocket Family Farms.